These luxury vessel built for life at sea combines high-sea cruising standards with onboard comfort, autonomy and performance.

Pleasure-boaters are seeking to push out the boundaries thanks to yachts offering maximum self sufficiency, performance, comfort and reliability. This is the ideal trimaran in which to embark on an expédition (transatlantic autonomy) or cruise off the coast.
The LEEN trimarans meet a specific demand for innovative, environmentally friendly, ocean-going boats.

They consume very little fuel at a cruising speed of between 8 and 10 knots, the ideal speed for a trawler trimaran.
LEEN

50 (NEW MODEL)

LEEN 50 is a natural addition to our range of LEEN-TRIMARANS engine-powered trimarans. After the LEEN 56 and the LEEN 72, the shipyard wanted to add a new model to the range. It follows in the path of its elders in terms of elegance, performance, comfort, autonomy, safety and comfortable sea travel.
The first 3 LEEN 50s will be launched in the last quarter of 2023.
LEEN
56
The LEEN 56 is the first trawler trimaran of the LEEN-TRIMARANS range. The specificities of this trawler: a great autonomy, a low consumption, a consequent livable volume and a remarkable passage at sea are definitively validated.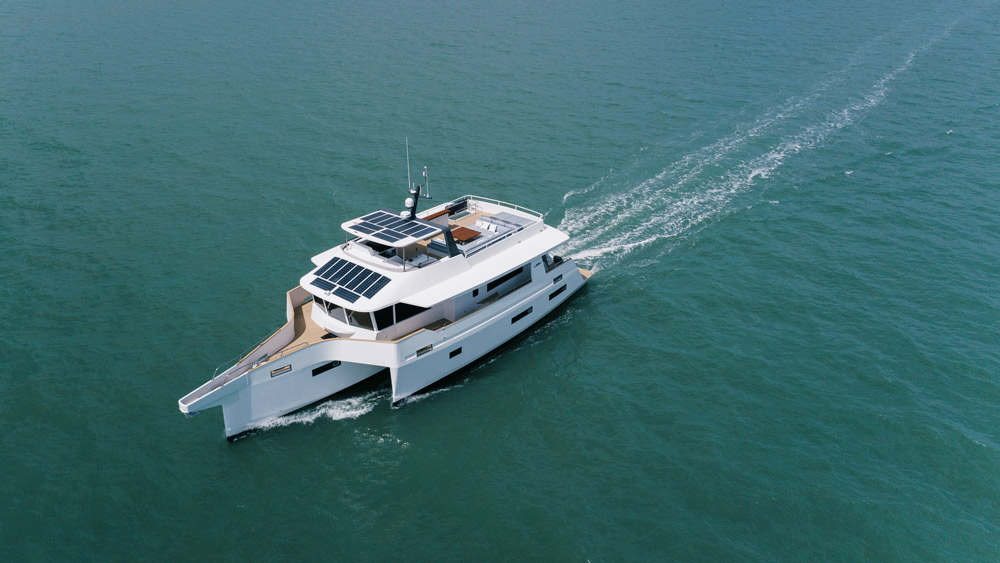 LEEN
72
The LEEN 72, the flagship of the LEEN trimaran range, was launched last April in La Rochelle (France). This unique trimaran confirms the interest of 3 hulls to travel long, far and with low consumption.
Indeed the concept of the trimaran allows an unequalled habitable volume and a comfortable behaviour at sea. Its flybridge is impressive by its dimensions.
More information?
Contact our dedicated team which is at your disposal to accompany you in the realization of your project.